Publié le 20 Janvier 2022
The Ronettes est un groupe vocal féminin (girl group) américain des années 1960 produit par Phil Spector et formé à New York en 1959. Ronnie Bennett (née le 10 août 1943), la principale chanteuse du groupe (dont le prénom donna son nom au groupe), fut l'épouse de Phil Spector. Les deux autres chanteuses étaient sa sœur Estelle Bennett (née le 22 juillet 1941 et décédée en février 2009) et sa cousine Nedra Talley (née le 27 janvier 1946).
Historique
Le plus gros succès du groupe est la chanson Be My Baby, en 1963. Ce titre sera repris dans de nombreux films, notamment Les Affranchis, Mean Streets et Dirty Dancing. Parmi leurs principaux titres figurent également Walking in the Rain, (The Best Part of) Breakin' Up et Baby, I Love You. En 1973, Ronnie divorce de Phil Spector et se lance dans une carrière solo. Un album compilation, sorti en 1992, est classé parmi "les 50 plus grands albums de tous les temps" par le magazine Rolling Stone dans la catégorie "Women who rock". Les Ronettes ont été introduites au Vocal Group Hall of Fame (en) en 2004. Le groupe fait une courte apparition dans le 40e épisode de la série britannique Monty Python's Flying Circus.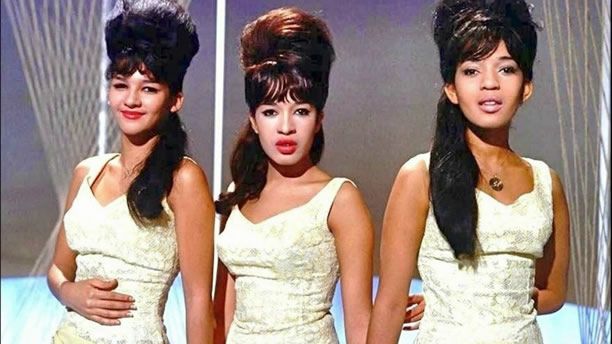 Discographie
Albums Studio
1964 : Presenting the Fabulous Ronettes featuring Veronica
Compilation albums
1963 : Today's Hits (Philles)
1963 : A Christmas Gift for You (Philles)
1965 : The Ronettes featuring Veronica (Colpix Records)
1975 : The Ronettes Sing Their Greatest Hits (Phil Spector International)
1976 : Phil Spector's Wall of Sound: Rare Masters Vol. 1 (Phil Spector International)
1976 : Phil Spector's Wall of Sound: Rare Masters Vol. 2 (Phil Spector International)
1981 : The Ronettes Sing Their Greatest Hits Vol. 2 (Masters)
1985 : The Ronettes: The Colpix Years 1961–1962 (Murray Hill)
1990 : The Ronettes: The Early Years (Rhino)
1992 : The Best of the Ronettes (ABKCO)
1997 : The Ronettes: The Ultimate Collection (Marginal)
2005 : Silhouettes (Collectables)
2010 : Be My Baby: The Very Best of the Ronettes (Legacy
2017 : Everything You Wanted to Know About The Ronettes ...But Were Afraid to Ask (For Collectors Only)