Publié le 16 Janvier 2022
The Four Seasons, aussi connus comme Frankie Valli & The Four Seasons, est un groupe de musique pop rock américain. À ses débuts, le groupe se distingua des autres groupes américains similaires de l'époque par l'utilisation d'un son italo-américain traditionnel. Vers le milieu des années 1960, The Four Seasons étaient internationalement connus. Le nom officiel est The Four Seasons Partnership, il a été formé par Bob Gaudio et Frankie Valli.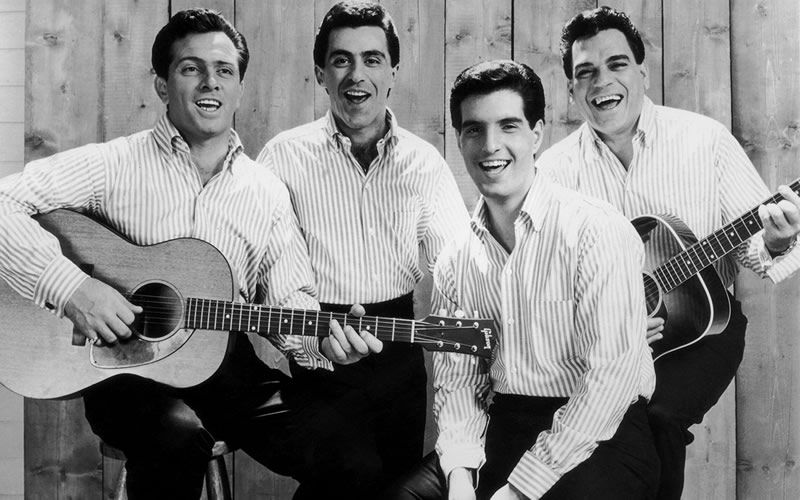 Historique
En 1958, Bob participe à une audition qui se tient en la salle de bowling de Union Township, dans le comté de 'Union County (État du New Jersey), mais il échoue, toutefois il rencontre à nouveau Frankie Valli et les deux artistes s'entendent pour former The Four Seasons : Bob Gaudio et Frankie Valli, rejoints par Tommy DeVito et Nick Massi. Bob et Frankie sont les seuls membres constants du groupe, et les seules carrières retenues par le monde de la musique. Bob se fait remarquer en 1962, composant le premier hit du groupe, Sherry, chanson écrite en 15 minutes, juste avant une répétition du groupe. Les succès sont nombreux, parfois coécrits par le producteur Bob Crewe, souvent en tant que parolier.
Bob a écrit une suite de hits pour son groupe, dont on retient Sherry, Big Girls Don't Cry, Walk Like a Man, Dawn (Go Away), Ronnie, Rag Doll, Save It for Me, Big Man in Town, Bye, Bye, Baby (Baby Goodbye), Girl Come Running, Beggin' et Can't Take My Eyes Off You. Les compositions du duo Crewe/Gaudio deviennent également des hits une fois repris par d'autres artistes : The Tremeloes (Silence is Golden, enregistré pour la face B d'un single Rag Doll), et The Walker Brothers (The Sun Ain't Gonna Shine Anymore). De nombreux musiciens sont passés par ce groupe, Bob et Frankie sont les deux seules figures constantes. Bob ne joue plus sur scène, Frankie restant le seul membre original. Le groupe a connu d'autres noms.
Musiciens
Avant 1960
Frank Valley
Variatones
Frankie Nolan
Frankie Tyler
Frankie Vally
Frankie Valley
Frankie Valley and the Travelers
Frankie Valle and the Romans
The Village Voices
Billy Dixon and the Tropics
The Topics
The Topix
The Four Lovers
Frankie Love and the Four Lovers
Eric Anthony
1960 et après
Hal Miller and the Rays
Johnny Halo featuring The Four Seasons
The 4 Seasons
The Wonder Who?
Frankie Valli
The Valli Boys
Frankie Valli and The Four Seasons
Frankie Valli and The New Seasons
Musiciens
Avant 1960
Frank Valley

Variatones

Frankie Nolan

Frankie Tyler

Frankie Vally

Frankie Valley

Frankie Valley and the Travelers

Frankie Valle and the Romans

The Village Voices

Billy Dixon and the Tropics

The Topics

The Topix

The Four Lovers

Frankie Love and the Four Lovers

Eric Anthony
1960 et après
Hal Miller and the Rays

Johnny Halo featuring The Four Seasons

The 4 Seasons

The Wonder Who?

Frankie Valli

The Valli Boys

Frankie Valli and The Four Seasons

Frankie Valli and The New Seasons